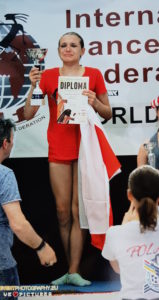 With great pleasure we notice the international success of Oliwia Szydłowska who performed in an artistic programme in the last year's Award Ceremony of European Business Club Poland in the Olympic Centre in Warsaw. During this year's World Championship in Sport Dance in Pula in Croatia on 23-27 May 2018 the young contestant was awarded with three golden medals in three categories:  Free Dance solo junior category, Free Dance pair junior category and Dance Show mini formation. 1900 contestants from 17 countries took part in the championship. Oliwia dances in the group "Asia Dance" in the Afterschool Centre Activities [Centrum Zajęć Pozaszkolnych] no 2 in Łódź, run by trainers: Joanna Małek and Piotr Mielczarek.
Dance group 'Asia Dance" was established in 2011 in the Afterschool Centre Activities no 2 in Łódź (former Youth Community Centre). Its creator and choreographer is Joanna Małek, an instructor, choreographer and dance educationalist. The Group is a member of the Polish Union of Sport Dance and has on its account several dozen golden, silver and bronze medals from Polish Championship in Sport Dance in the categories: solo, pair and formations. The Club has over 130 children who regularly represent our country on the Polish arena as well as internationally. They trained children and youth during dance and acrobatic classes in various dance techniques: disco, hip- hop, modern, jazz, ballet and contemporary dance, taking part in numerous shows, competitions and performances. The solo dancers of the "Asia Dance" regularly find themselves on the podium of prestigious dance competitions. In the current year as many as 27 contestants of "Asia Dance" got a vocation for the Polish team for the World Championship in Sport Dance organised by the International Dance Federation.
From the World Championship in Sport Dance in Croatia the Group brought 9 medals in the categories: Dance Show, Fantasy Show, Free Dance and Disco Slow, including:
I place Solo Junior – Oliwia Szydłowska
I place Pair Junior  –Oliwia Szydłowska and Weronika Olszańska
I place Miniformation Junior
II place Solo the youngest 6 year old Anastazja Hajnczel
II  place  Adult Formation
III place Junior Formation
III place Pair Junior-Ania Sieroń and Ania Szczęsna
III place Solo Junior- Weronika Olszańska
III place Adult Formation
We would like to congratulate the young contestant and wish her further artistic achievements and a lot of international success!