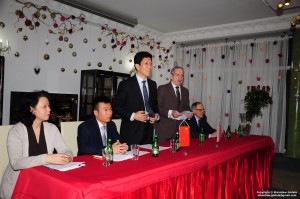 On 19 January, at the invitation of Mr. Janusz Cieslak, the President of the EBC Poland, our Association hosted Mr. Xu Jian, Ambassador of the People's Republic of China in Poland. China  appears for Polish entrepreneurs as an economy with great opportunities hence the interest of this market is enormous. Full conference room of Czarny Kot – My Warsaw Residence confirmed this thesis. Ambassador Xu Jian was accompanied by Liu Lijuan, Commercial Counsellor of the Embassy together with other members of the Embassy's staff, as well as a delegation of the representatives of Chinese companies, among others, Mr. Li Xiaobo, CEO of Industrial and Commercial Bank of China (Europe), and Mr. Wang Weijing,, PR Director in Huawei.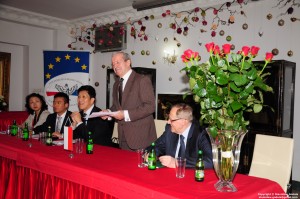 In his welcome speech President Janusz Cieslak recalled that the first joint venture in China was established in 1951 and it has been Polish-Chinese company Chipolbrok which at a meeting represented its CEO Mr. Liu Shanghai. On the Polish side the meeting was attended by among others: Mr. Roman Jagieliński former Deputy Prime Minister and currently the President of the Fruit Group ROJA, Mrs. Anna Kalata, former Minister of Labor and now the owner of the KALATA TV, Mrs. Barbara Misterska-Dragan, former Deputy Minister of Treasury and now the President of Misters Audytor Adviser and the only in Poland Honorary Citizen of Beijing Mr. Zdzislaw Góralczyk, former Ambassador to China, currently the President of Polish-Chinese Friendship Association.
In his speech, Ambassador Xu Jian presented the current state of China's economy and prospects for the development of trade relations between our countries, indicating the reasons which prevent its rapid growth. When the time for questions and comments from the audience came, a real economic dialogue between Poland and China had started. Nearly 1.5 hour conversation, not only gave the participants a unique experience, but also built a belief that there is a huge potential for growth in trade. Prospective contractors must, however, get to know each other and build common ground for agreement. That is one of the reasons why European Business Club Poland plans to organize a trade mission to China in the second half of this year. This mission will be the consequence of a visit to China, held from 30 November – 6 December 2014, by the President of EBC Poland Janusz Cieslak and a member of the Association Mrs. Barbara Misterska – Dragan. The aim of the visit was to explore the possibility of increasing the export of Polish goods to China and establishing contacts with interested companies. Thanks to previously acquired contacts, members of this year's mission will be well prepared for the meetings with definite Chinese companies interested in trading with Polish exporters.
The last point of the meeting was the exchange of business cards and individual conversations which lasted late into the evening.