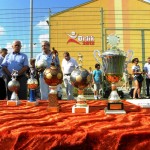 On August 11, 2013 took place last round of the football tournament for the Cup of the President of the Municipal Council of Jedlnia. For eight consecutive Sundays at a new "Orlik"  field in Jedlnia, there were fierce amateur football matches in which they were teams composed exclusively of residents of the municipality. The new rules of competition, for the first time, excluded from the competition football clubs playing in the league. The tournament was attended by 14 amateur teams. Project was organized by the Commission of Education, Culture, Sport and Recreation of the Municipal Council. Representatives of the European Business Club Poland were invited as guests of honor.
In a tense and exciting final match Bayer Jedlnia beat RKS Rajec 4:3. After the final game was held the awards ceremony- trophies and diplomas were awarded for players and three best teams. Diplomas received Michał Chmurzyński, team Młodzi Jedlnia KS – 14 year-old resident of Jedlnia, for the the best player in the tournament and Filip GLEGOLA – 12 year-old resident of Rajec. Rafal Horse Sadków – was the bes goalscorer of the tournament.
Awards and commemorative diplomas were presented jointly by the Municipal Council President Jerzy Chrzanowski , accompanied by the mayor Piotr Leśnowolski and President of the European Business Club Poland Janusz Cieślak , Vice President Jack Dybowski and member of the Board Andrzej Strejlau , long time coach of the Polish national team who was the special guest of the tournament. Mayor of Jedlnia Piotr Leśnowolski gave participants of the tournament souvenir T-shirts with the logo of the District. In a brief address, the President of the Municipal Council, Jerzy Chrzanowski congratulated the winning team and expressed his appreciation for all the teams, which attended tournament this year, and thanked the Mayor Piotr Leśnowolski for building great sports facility, which now serves the residents of the entire community .
Special Guest of Tournament – Board Member of the EBC – Poland Andrzej Strejlau – football expert and experienced coach – congratulated the winners and gave them some valuable advice and comments.
President of the EBC – Poland Janusz Cieslak congratulated all participants of the tournament with particular emphasis on winning teams. At the same time he gave the three winning teams funded by the European Business Club – Poland ball autographed by Andrzej Strejlau. In addition, he expressed his special thanks to the members of EBC – Poland Barbara and Ryszard Różański, who created a family, friendly and unique atmosphere and undertook a very dignified guests .
The ceremony was hosted by the editor Joanna Stachurska – Ruszkowska, resident of Jedlnia, from Radio ESKA, .
Mayor Piotr Leśnowolski announced that next year, in addition to men's football tournament will be organized women's volleyball tournament.