On October 22-23, 2014 in Warsaw was held cyclic conference organized by the Economic Institute of the Social Academy of Sciences titled "Economic security of business transactions", which involved a total of more than 140 participants from more than 60 research centers, business associations, representatives of the government and parliament. It is the only conference in Poland, during which discussed are the most current issues of broadly defined economic security of households, businesses, state and global spheres within the interdisciplinary relationship of economics, law and management. Mr. Janusz Cieslak, President of the European Business Club Poland was one of the members in a panel on "economic turnover in Poland – opportunities and threats".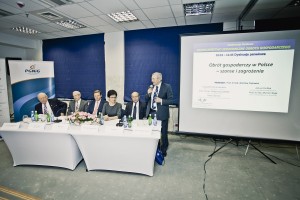 During this year's meeting, particular emphasis was placed on the determination of legal and organizational framework for the safety of the economy from an economic point of view and on identifying opportunities and threats to the economy, by the tax system. Throughout the conference there was a very lively and substantive discussion that allowed to illustrate various positions, forcing for reflection and greater cooperation of all parties of business transactions – especially business, justice, law enforcement, tax authorities and experts.
President Janusz Cieślak had been invited to participate in next conference which will be held in October 2015.