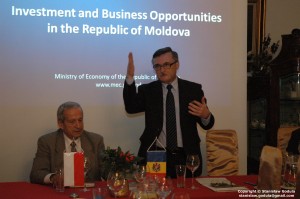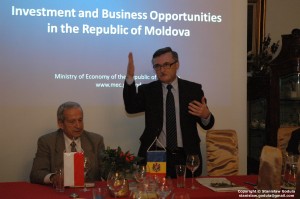 On October 4, 2013, Ambassador of the Republic of Moldova in Poland – His Excellency Iurie Bodrug was a guest of the European Business Club – Poland, at the invitation of the President of the Association Mr. Janusz Cieślak. The meeting took place at the hotel – restaurant "Black Cat" – "My Warsaw Residence".
Moldova is a small country which does not have access to the sea and is located in the south-eastern part of Europe. Situated in the warm temperate zone of the characteristics of continental climate. Ambassador emphasized very rural nature of his country and its main natural wealth- fertile soil. As many as 75% of the country are chernozems. As a result, perfectly manages to viticulture and production of fine wines, wines that are on the tables of kings.
Relations between our country and Moldova have a long tradition. Who knows what would have taken the fate of Polish-Teutonic Knights conflict, if not loan granted in 1388 by the then ruler of Moldova – Peter I Muszata to King Jagiello,  secured on Pokuttya.
In fact, it is not known whether Moldova already then produced as fine wines as those presented at the meeting by Ambassador Iurie Bodrug. Moldova and Poland are trying to improve the business environment and operating conditions for entrepreneurs, which should help companies of both countries to intensify trade cooperation. Funds and activities related to the Eastern Partnership will probably increase our presence in this market through common projects inenergy, food, transport infrastructure, communications sectors.
Poland is also a proponent of Moldova's future membership in the EU. Recently the number of Polish companies interested in cooperation with Moldova increased expressly. Currently Polish export to Moldova is dominated by mechanical and electrical equipment, and import from Moldova by prepared food, soft drinks, alcohol (including wine) and vinegar and tobacco.
In 2011, in Moldova was registered 57 companies with Polish capital.
So far, Polish investments relate mainly to construction, manufacturing, trade, and more recently, construction services, transportation and job placement. In 2011, the Polish company also explored the possibility of investing in the construction, ceramics, furniture, waste disposal and construction of small heating plants.
As can be seen, there are prospects and opportunities for strong growth in bilateral trade and the growth of Polish investments in Moldova. These issues will be discussed, i.a. by representatives of our businesses taking part in the official visit of President Bronislaw Komorowski in Kishinev in December of this year.