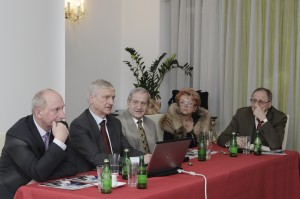 On January 29, 2013 at the invitation of President Janusz Cieslak our Association hosted the President of the Polish Academy of Sciences – Professor Michal Kleiber. The meeting took place in a hospitable hotel – restaurant "Black Cat – My Warsaw Residence".
Professor Michal Kleibers speech was dedicated to the assessment of the current situation of the cooperation between scientific community and business as well as prospects of its development with special focus on innovation and creativity as essential elements of Polish economic development. Much attention has been devoted to the "New culture of innovation." Especially important for entrepreneurs were comments of Professor Michal Kleiber on duty of having awareness of global challenges and knowledge of methods of financing innovation projects. In his speech, Professor Michal Kleiber also referred to the role of banks in the development of innovation. In conclusion, the speaker stated that Poland is not innovative, and, unfortunately, and it is as such perceived in the world. To change this situation, there is a need for a cross-sectoral development strategy. Creative thinking, based on the broad social support, and innovation activities is the only chance for stable economic growth of 5%.
Speech by Professor Michal Kleiber received great applause by the members of EBC Poland.