The "WALKRYS – SECURITY" PROTECTION GROUP" is represented by two companies :
Licensed Agency for protection of people and property "WALKRYS – SECURITY" Krzysztof Walendziewski
and
"WALKRYS – SECURITY" , a limited liability company.
The Security Agency "WALKRYS-SECURITY" was founded in 2004. Its founder and owner is Mr. Christopher Walendziewski. "WALKRYS-SECURITY" LLC was founded in 2009 and is a limited liability company. Both companies have got the Concession of the Ministry of the Interior and Public Administration to conduct actions in the matter of detective services on the basis of the inscription into the registry of companies allowed to provide detective services, run by the Ministry of the Interior and Public Administration. Both companies possess a civil and contract – delict responsibility insurance policy amounting to 1 million PLN each. All the detective services offered are insured to the amount of 15.000 Euros.
The scope of services offered by the WALKRYS -SECURITY PROTECTION GROUP includes:
 Ivestigation services
 Debt Collection
 Business intelligence
 Legal Services
 Physical protection:
 Permanent protection of buildings by agents in uniforms, armed or unarmed, equipped with means of direct coercion and means of communication
 Protection of people and goods in office buildings, schools, kindergartens, nurseries and also in public buildings and renowned hotels
 Protection of the reception staff by qualified personnel
 Physical protection of people, including VIPs
 Escort of cash and valuables
 Design and installation of technical security systems
The core of executives WALKRYS- SECURITY PROTECTION GROUP are qualified and experienced professionals holding licenses of physical protection agents and are titular of technical secondary education. Their long-lasting experience is a warranty of the highest quality of services offered by our company.
WALKRYS – SECURITY PROTECTION GROUP also attaches great importance to the recruitment and selection process of its employees. Our security staff already at the initial stage, are specifically checked for previous employment and qualifications, and during their employment in our company, their working knowledge is constantly being reviewed by the inspectors of our company.
Feel free to contact us!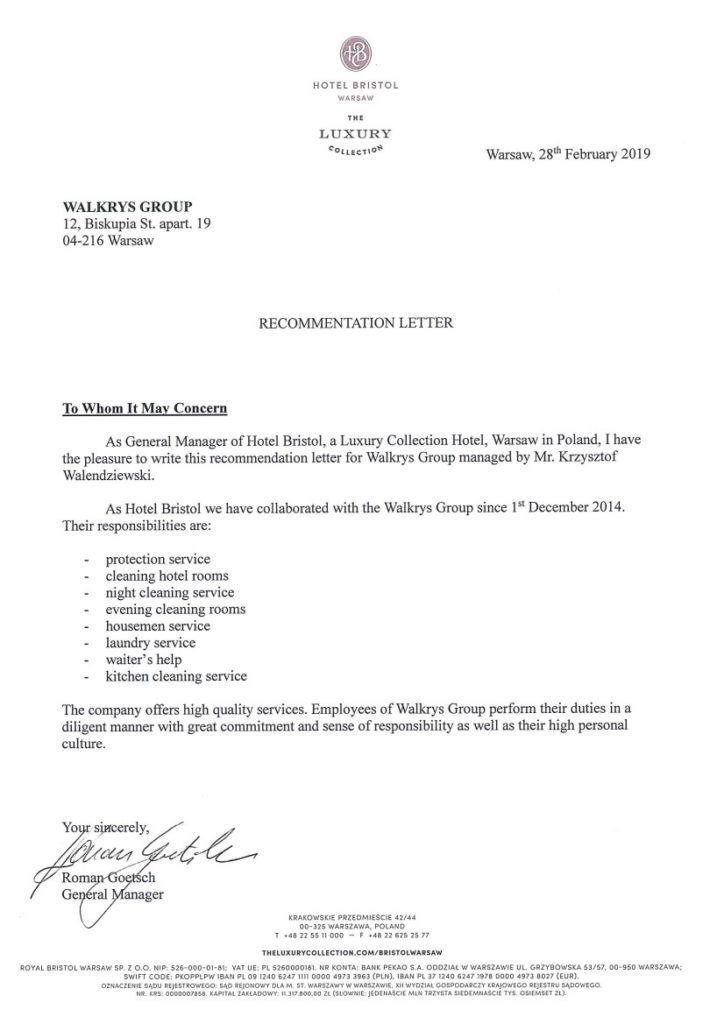 04-216 Warszawa
ul. Biskupia 12 lok. 19
tel. (+48 22)784 24 35
faks (+48 22)845 26 99
tel. kom. 0609 72 91 97
kontakt@walkrys-security.pl