Prof. dr. hab. Viktar Gaisenak
Ambassador of the Republic of Belarus in Poland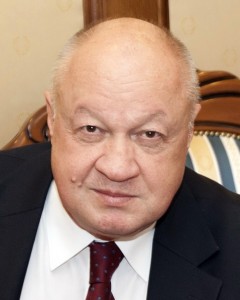 Born on:
June 6th, 1950 in Gostilovichi,
(Lahoysk Raion of Minsk Voblast, Belarus).
Marital status:
He is married and has a daughter.

Experience and career:
In 1972, he graduated from the Belarusian State University majoring in Physics.
Doctor of physico-mathematical sciences (1990), Professor (1991).
Member of several national and international scientific academies.
1972-1992 Assistant, Engineer, Assistant Professor, Associate Professor, Dean of the Faculty of Physics of the Belarusian State University,
Head of the Chair of Teaching Methods of Physics and Computer Science.
1992-1994 Minister of Education of the Republic of Belarus.
1994-1997 Rector of the Republican Institute of Higher School.
1997-2000 Chairman of the State Committee for Science and Technology of the Republic of Belarus.
2000-2005 Ambassador Extraordinary and Plenipotentiary of the Republic of Belarus in the Republic of Austria, Permanent Representative of the Republic of Belarus in the International Organisations in Vienna.
2005-2008 Deputy Minister of Foreign Affairs of the Republic of Belarus.
Others:
Laureate of State Prize of the Republic of Belarus in the field of science and technology (1994 years).
He is the author of over 100 scientific papers, monographs and textbooks of physics.
Hobbies: Digital Photography.