Marjan Šetinc
Ambassador of Slovenia in Poland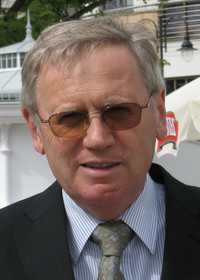 born May 15, 1949 , Šentlenart ( Brežice ) Slovenia, a former member of Parliament (1992-1997 ) and former ambassador to the United Kingdom, currently ambassador to Poland married with two children.
Graduated from the Faculty of Philosophy at the University of Ljubljana in 1973 and earned a master's degree in social psychology at the London School of Economics in 1977.
In the years 1974-1992 he worked as a researcher at the Slovenian Association of Trade Unions , and since 1980 at the Institute for Educational Research at the University of Ljubljana . The study of social processes, it was also the beginning of political activities in the Socialist Party of Youth , which became the core of the Liberal Democratic Party of Slovenia ( LDS ) . Candidate from his hometown Brežice , was elected deputy to the Parliament.
In 1998-2002 he was accredited as Ambassador of Slovenia in the UK and Republic of Ireland.
In 2002 he was appointed to organize the Department of Development and Humanitarian Cooperation, led by the Slovenian Ministry of Foreign Affairs until 2006
Since 2006, coordinated the work on the co-operation with the OECD, the WTO , UNECE , UNCTAD .
Since 2002 , a delegate and participant min. World Summit on Financing for Development and the World Summit on Sustainable Development .
Since 2009. accredited as Ambassador of Slovenia in Poland.
In 1996 and 2000 Ambassador Marjan Šetinc was a member of the Slovenian Statistical Council and a member of the London Association of Diplomats . He is also the founder and president of the Slovenian Association of Students of Education, is currently Secretary General of the Slovenian company of international relations, is also a member of the UNICEF Slovenia.
Ambassador Marjan Šetinc completed many professional training courses m.in: the University of Liège ( Belgium) , University of Durham ( England), University of Enschede (Netherlands), University of British Columbia ( Canada) , Boston College ( Boston , USA). He published more than 50 articles and publications .
In 1989 he participated in the group of experts who prepared the first report of the UNESCO World Education, in 2005 issued the first time in Slovenia report on the development of international cooperation 2002-2004. In 1989 he founded The School Field – an international journal published in London, devoted to the study of the theory of education.
He was also a leading graduate seminars include Lancaster University, Strathclyde University, LSE , Kingston University and participated in the following international projects : International Assessment of Educational Achievement , ETS Princeton, USA , International Association for the Evaluation of Educational Achievement : TIMSS , Reading Literacy , Civic Education Project .
As Ambassador in Poland, presented the Slovenian foreign policy in the Institute of International Affairs, European Diplomatic Academy in Warsaw Business Journal and the European Economic Congress , the Business Center Club, Alpine – Subcarpathian Forum .